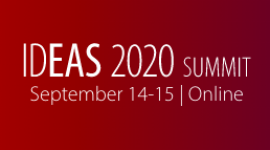 IDEAS 2020 Online
Organizer: Cardiovascular and Interventional Radiological Society of Europe (CIRSE)
Venue: Online event, -
Website: go to
Endovascular aortic repair is a continuously evolving field with a range of complex challenges. Over the last five years, IDEAS has proved to be an ideal scientific venue for practitioners and researchers from across the world to work in a collaborative, friendly and non-biased environment to address these challenges, disseminating knowledge and promoting best evidence-based practice in the management of aortic pathology.

At IDEAS 2020, key opinion leaders in the field of aortic interventions will engage in open discussion on a number of highly interesting topics. The symposium will thoroughly explore advances in aortic arch interventions and the latest measures for stroke prevention during thoracic aortic procedures. Attendees will receive practical lessons supported by current evidence to advance knowledge in treating and improving long-term outcomes for patients with complex pararenal AAA and complex thoraco-abdominal aneurysms.

During dedicated Focus Sessions, insight into the latest technology and technical innovations will be presented together with up-to-date evidence from trials and registries. World experts will shed light on durability issues related to EVAR technology in elective and emergent settings. Contemporary management along with strategies to address gaps in knowledge of aortic dissection will be interactively discussed.

The popular "My worst case in the angiosuite; what I have learned" format will be featured and run by carefully chosen speakers with great expertise.
tags: IDEAS 2020 Endovascular aortic repair thoracoabdominal aneurysm aortic arch intervention CIRSE pathology