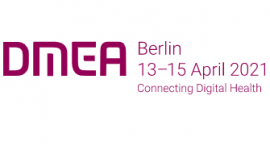 DMEA 2021
DMEA 2021 in Berlin Exhibitions Area - we are Looking Forward to Your Participation
The current situation has shown that digital health is indispensable and more important than ever.

In 2021 DMEA – Europe's leading platform for digital healthcare – will be gathering the industry's leading players again in Berlin. In addition to a comprehensive overview of the market it offers wide-ranging opportunities for an in-depth exchange of views, efficient networking and targeting customers.

Reserve this important date already now: DMEA 2021 will take place from April 13-15 in the Berlin exhibition halls.
tags: dmea 2021