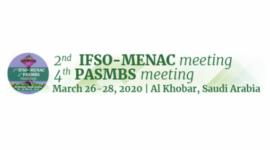 2nd IFSO MENAC, 4th PASMBS, 7th GOSS and 5th SASMBS Meeting
Organizer: IFSO, PASMBS,
Venue: Sultan Bin Abdulaziz Science & Technology Center (Scitech), Al Khobar, SA
Website: go to
On behalf of the Scientific committee of the IFSO Middle East North Africa Chapter (MENAC),
it is our honor, privilege and great pleasure to invite you to the 2nd IFSO MENAC, 4th PASMBS, 7th GOSS and 5th SASMBS Meeting to be held in Al Khobar (Saudi Arabia) on December 02-05, 2020. The four Scientific Societies have decided to join forces to create an event of high scientific value and to share their individual experiences. We have invited international, regional and local experts and have put together an excellent scientific program in collaboration with the Saudi Arabia Society of Metabolic and Bariatric Surgery (SASMBS) in the beautiful city of Al Khobar.

The 3 day program will include Wet Lab, OAGB Workshop, Endoscopic Plication Workshop, Advanced Bariatric laparoscopic Suturing technique Workshop, Research in Bariatric Surgery Workshop, Bariatric Nurses Course and sessions such as: Basics of gastrointestinal nutrition, GI nutrition, where we stand with One anastomosis gastric bypass, the MENA perspective on GERD after Sleeve Gastrectomy, Enhanced recovery after bariatric surgery, Complications of Bariatric Surgery, Technical tips and Tricks in Bariatric Surgery, a Video session on intra-op disasters and how to avoid and manage them, as well as Young IFSO MENA session, a session on innovation in Surgery and how to protect your ideas as well as several Integrated Health and abstracts sessions.
tags: 2nd IFSO MENAC and 4th PASMBS Meeting anastomosis gastric bypass bariatric surgery Laparoscopic Bariatric Nurses Course Endoscopic Plication OAGB Middle East North Africa Chapter IFSO PASMBS