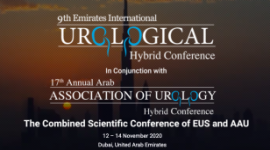 9th Emirates Urological Conference and 17th Annual Arab Association of Urology
On behalf of the board of directors of Emirates Urological Society it gives us a great pleasure and honour to invite you to the combined scientific conference of Emirates International Urological Society and Arab Association of Urology.

Emirates Urological Society has been carefully analysing the situation regarding the annual congress in November. As we stand united against the ongoing distress caused by COVID-19, we have decided to continue on the planning to host the annual conference as a hybrid event from 12 – 14 Nov 2020. The Covid-19 has created one of the most challenging environments the modern world has ever experienced. We believe that now, more than ever, we all need to come together and see this challenge as an opportunity.
tags: Arab Association of Urology Urology European Association of Urology