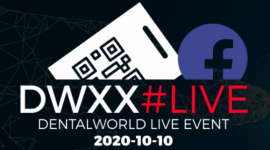 Dental World 2020 Digital
In order to prevent the further spread of the coronavirus epidemic, Miklós Kásler, Minister of the EMMI, banned the holding of professional events in the health sector with a personal presence. Events in this category can only be held online. That's why Dental World 2020 will be held with congresses held on a digital platform, as well as a full-day live online broadcast on the original date, October 10th.
DWXX#LIVE
On October 10, 2020, we will broadcast a live online event on the Dental World 2020 Facebook page, in which lectures, discussions, debates, professional programs and presentations will take place.
DWXX#STREAM
From October 10, 2020, the lectures in English and Hungarian will be continuously uploaded to the Dental World video library, which can be viewed by owners of congress tickets for about 2 months (until 31 December, 2020). New participants without a congress ticket can submit for "Digital Access" for presentations.
CREDITS
The system logs the viewing of the lectures, so after viewing the required number of lectures, the credit points of the given congress are certified.
We look forward to the 2020 dental congresses with exciting presentations.

We have been bringing in the best in the profession every year for twenty years so that we can learn from them. This year, due to the epidemic, we are waiting you on a digital platform with aesthetics, implantology, orthodontics, endodontics and digital dentistry.
tags: DENTAL WORLD XX ANNIVERSARY orthodontics Implant Dentistry dental surgery Dental