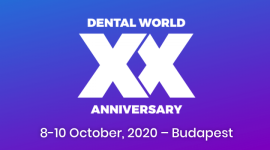 DENTAL WORLD XX ANNIVERSARY
Organizer: Event Organizer Hungary Ltd.
Venue: HUNGEXPO Budapest Fair Center, "A" HALL, Albertirsai Rd. 10 , Budapest, HU
Website: go to
CME credits: 8/day
More than 150 000 visitors from all over the world during the 19 years, hundreds of scientific lectures, international workshops, dental congresses and thousands of successful deals at the exhibition stands – provided for you by Dental Word. An international dental exhibition and postgraduate conference visited by not only the local dentists, dental technicians, dental hygienists, and salesmen, but the dental professionals and manufacturers of the neighbouring countries. Three days to make new acquaintances, to learn and to teach new methods, to buy useful and necessary instruments, to be more efficient under increased competition.

CONFERENCES:

- AESTHETIC CONGRESS : 3 days (8-9-10 October)
- ENDODONTIC CONGRESS : 3 days (8-9-10 October)
- DIGITAL DENTISTRY CONGRESS : 1 day (10 October)
- IMPLANTOLOGY CONGRESS : 3 days (8-9-10 October)
- ORTHODONTIC CONGRESS : 3 days (8-9-10 October)

The 20th Dental World will take place between 8 – 10 October 2020. We kindly invite everyone who is interested in learning the improvement of Dentistry, the latest news and who is intended to constantly enhance their knowledge.

For Visitors: It is FREE to visit the exhibition but a registration is required.

We look forward to seeing you at Dental World in October!


tags: DENTAL WORLD XX ANNIVERSARY orthodontics Implant Dentistry dental surgery Dental