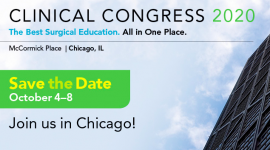 ACS Clinical Congress 2020
The purpose of the Clinical Congress is to keep ACS Members and interested non-Fellow physicians abreast of the current status of the art and science of surgery. To accomplish its purpose, the Clinical Congress offers a highly diversified program of continuing education in all specialties of surgery and in important fields of science, socioeconomics, and medical education. It holds the preeminent place among all College activities designed to raise the standards of surgical practice and improve the care of the surgical patient.

The entire program presented at this meeting includes physicians drawn from various specialties. The sessions are designed to present a variety of viewpoints on matters of particular interest to those for whom the session is primarily intended and to stress the need for understanding and cooperation among the specialties.


Save the Date
Make sure to mark your calendars for Clinical Congress 2020 in Chicago, IL, October 4–8. We will see you in Chicago!

Call for Abstracts and Videos
The Call for Abstracts and Videos is opening soon. You may submit abstracts for the Owen H. Wangensteen Scientific Forum or videos for the Video-Based Education Sessions.

Book Your Accommodations
Plan ahead for Clinical Congress 2020 in Chicago and stop by onPeak desk located in Moscone South.


tags: ACS Clinical Congress 2020 American College of Surgeons Clinical Congress