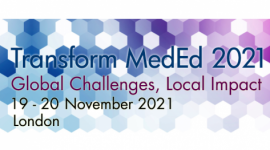 Transform MedEd Conference 2021
Organizer: Imperial College School of Medicine and the Lee Kong Chian School of Medicine
Venue: Royal Geographical Society & Imperial College London, South Kensington, London, UK
Website: go to
Jointly hosted by Imperial College London and LKCMedicine, Singapore, the next Transform MedEd conference will take place in London on the 19 and 20 November 2021. Transform MedEd 2021 will offer our delegates unprecedented access to transformative medical educational developments, building on the programme we had prepared for you and yet offering opportunities for even greater reach and diversity. In 2021 we will bring together an international array of eminent speakers, educators, innovators, students and partners in an exciting mix of discussion and debate, showcasing innovative digital solutions to inform the future evolution of medical education around the world.

In celebration of all inspiring work that was contributed to Transform MedEd in the last year, a digital programme will be released from June 2020. Following our theme of medical education transformation through innovation and technology, online sessions will be hosted to explore key ideas in medical education.


Registration details will be published in Autumn 2020.
tags: London Transform MedEd Conference 2021 MedEd Conference