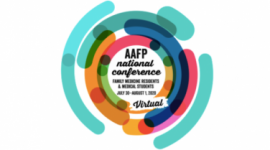 2020 National Conference of Family Medicine Residents and Medical Students - Virtual
In light of COVID-19 and with respect to the health and safety of all involved, National Conference is going virtual. The AAFP is committed to investing in the students and residents that represent the future of family medicine. Thanks to innovative technology, this can't-miss event will continue to offer attendees educational workshops, inspiring main stage sessions, access to family medicine residency programs, and more.


Connect with your peers and join us at National Conference—from anywhere you are.
Please note: National Conference attendance is open only to:

- AAFP family medicine resident members
- AAFP student members (current medical students)
- AAFP transitional members (individuals who have graduated medical school in 2018, 2019, or 2020)

AAFP has hosted students and residents at National Conference for 46 years—and the tradition continues as a virtual event. At National Conference you can advance your knowledge, make connections and learn what's on the horizon for family medicine. Just like with the live conference, the virtual platform will allow you to tailor your experience to best meet your needs and will include:
11 hours of live workshops and main stage sessions
On-demand access to all education for 30 days after the event
Virtual expo hall, including the ability to schedule one-on-one appointments
Networking opportunities
tags: family medicine student virtual event