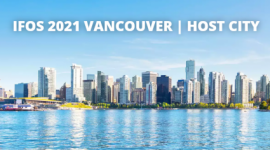 2021 World Congress of Oto-Rhino-Laryngology IFOS
Organizer: International Federation of Oto-Rhino-Laryngological Societies
Venue: Vancouver Convention Centre, 1055 Canada Pl, BC V6C Vancouver, CA
Website: go to
The 22nd World Congress of the International Federation of Oto-Rhino-Laryngological Societies, IFOS 2021 will be held in Vancouver, Canada between 19-23 June 2021.
Vancouver is a diverse, colourful and multicultural destination that has built a reputation for being one of the most outstanding convention cities in the world. The city is surrounded by snow-capped peaks, sun-drenched sands and the sparkling Pacific Ocean, and boasts one of the warmest climates in Canada.

The award-winning Vancouver Convention Centre sits along the downtown waterfront against a dramatic mountain backdrop. From here, attendees can easily access the 13-mile seawall, distinct shopping districts, and incredible restaurants – all within a five-minute walk.