03min 40s.
This video shows stage III of esophageal varices - portal gastropathy in gastroscopy.
views: 4690 comments: 0
The material presents esophageal varices after endoscopic banding.
views: 4328 comments: 1
00min 52s.
The material presents stage i of esophageal varices.
views: 2960 comments: 0
In this video you can see gastric fundal varices.
views: 2793 comments: 0
00min 21s.
A varix has been ligated at the cardias.
views: 2442 comments: 0
00min 52s.
This video presents gastric fundal varices.
views: 2263 comments: 0
00min 33s.
Although gastric varices tend to bleed less frequently than esophageal varices, the morbidity and mortality associated with gastric variceal hemorrhage are substantial. Gastric varices are dilated...
views: 2104 comments: 0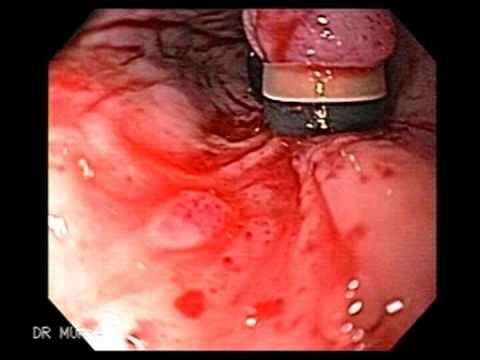 17min 37s.
Endoscopic elastic band ligation (EBL) in eradicating esophageal varices has been shown to be an effective, safe, easy-to-do procedure with few untoward effects. The indications for EBL of esophageal...
views: 1942 comments: 0
00min 26s.
Suction is applied through the endoscope, and the band is released over the entrapped varix. The clear plastic cylinder of the variceal ligation device is seen attached to the end of the endoscope....
views: 1469 comments: 0
Medical photo presenting endoscopic image of esophageal varices. The most common cause of esophageal varices is a portal hypertension. The variceal bleeding is often the first symptom of dilated sub-mucosal...
views: 1437 comments: 0