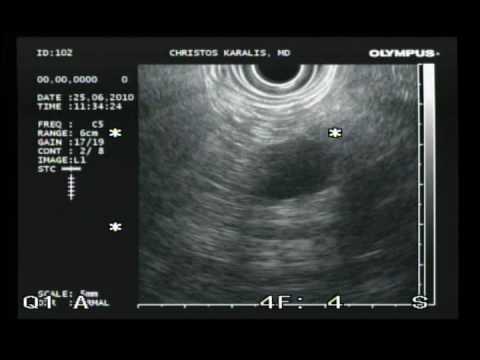 06min 11s.
Complication of the pancreatic cyst aspiration guided by endoscopic ultrasound (EUS) may be bacterial pollution of the fluid or abscess developement. Both systemic infusion of antibiotic like ciprofloxacin...
views: 1608 comments: 0
06min 04s.
This video demonstrates the EUS-Guided Necrosectomy technique and the use of a new device in a man of 54 y-old with acute biliary necrotizing pancreatitis. This patient evolved with poor general condition...
views: 1409 comments: 1
00min 19s.
Radial Endosonography EUS. EUS provides high-frequency imaging in the GI tract providing more detailed images of the gut wall and surrounding structures than any other imaging modality. The method...
views: 1269 comments: 0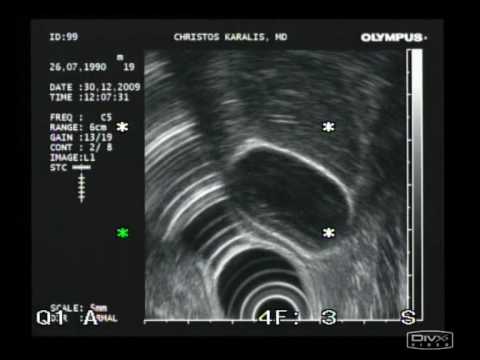 02min 28s.
The following video shows gallbladder polyps in endoscopic ultrasound.
views: 1236 comments: 0
02min 15s.
Man 56 y-old with jaundice. MRI revealed obstruction of the distal common bile duct near to the duodenal papilla. EUS shows hypoechoic, heterogeneous and irregular mass with invasion of common bile duct...
views: 1181 comments: 0
1502px x 609px
The typical CT image of a serous cystadenoma of the pancreas with central calcification and EUS with a central scar confluence of other cysts.
views: 1157 comments: 0
00min 22s.
EUS can detect lesions as small as 2-3 mm in size and is the best method for determining the 5 echogenic layers of the stomach. The 5 layers are histologically correlated with the mucosa (layer 1),...
views: 1045 comments: 0
1524px x 1127px
This is a rare benign tumor that can occur after abdominal trauma of the pancreas.
views: 1022 comments: 0
02min 53s.
This video shows us the technical aspects of a EUS-guided drainage of post-traumatic pancreatic pseudocyst. All steps are described. This is a patient who had cystic formation after subtotal pancreatectomy...
views: 975 comments: 0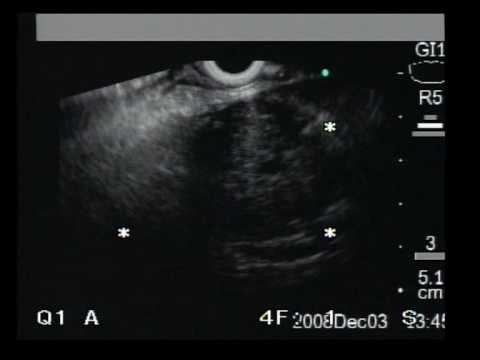 04min 38s.
The following material shows the EUS examination of rectal cancer in T4N0 stage.
views: 857 comments: 0