03min 46s.
The video displays an instructed demonstration of endoscopic septoplasty.
views: 3384 comments: 1
01min 39s.
This video presents endoscopic transnasal removal of frontal sinus osteoma (grade 3 in Chiu and Kennedy classification). Draf IIb procedure. Video by Tomasz Gotlib MD.
views: 4368 comments: 0
00min 17s.
A 59 year-old female with ictericia due to hepatic cirrhosis.
views: 241 comments: 0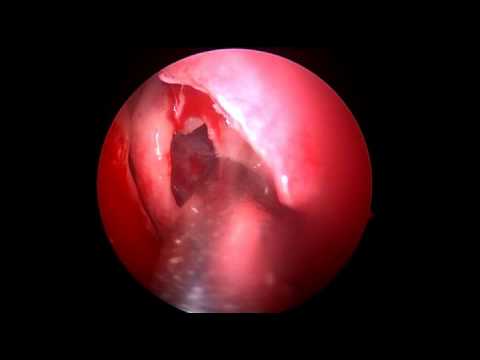 08min 50s.
Video presents endoscopic removal of a sphenochoanal polyp.
views: 248 comments: 0
00min 13s.
A 27 year-old female, HIV-positive with Colonic tuberculosis mimicking Crohn's disease, patient complained of dysphagia and odynophagia. Candidiasis is a frequent complication for HIV-positive individuals....
views: 249 comments: 0
00min 17s.
Candidiasis. White plaques are present on the buccal mucosa and the undersurface of the tongue and represent thrush. When wiped off, the plaques leave red erosive areas.
views: 256 comments: 0
00min 25s.
The usual clinical presentation of Candida esophagitis is dysphagia and/or odynophagia in a patient with 1 or more predisposing factors for the condition. Symptoms are variable in severity, ranging...
views: 257 comments: 0
00min 35s.
00min 29s.
GRANULOMA - The vocal fold on the right side of the picture has a granuloma attached to the vocal process which is causing a small reactive lesion on the opposite vocal process. Laryngopharyngeal...
views: 261 comments: 0
00min 22s.
Papillomas are benign epithelial tumors that are caused by infection with the human papilloma virus (HPV) They are the most common benign neoplasms affecting the larynx and upper respiratory tract....
views: 269 comments: 0