03min 46s.
The video displays an instructed demonstration of endoscopic septoplasty.
views: 3726 comments: 1
01min 39s.
This video presents endoscopic transnasal removal of frontal sinus osteoma (grade 3 in Chiu and Kennedy classification). Draf IIb procedure. Video by Tomasz Gotlib MD.
views: 5150 comments: 0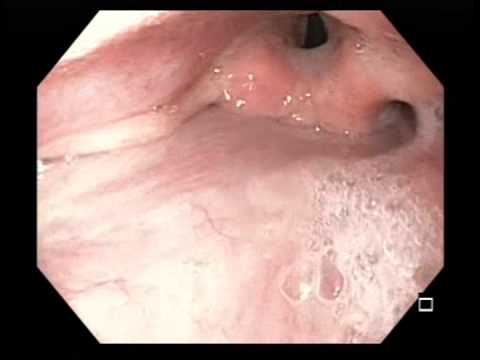 00min 43s.
00min 13s.
A 27 year-old female, HIV-positive with Colonic tuberculosis mimicking Crohn's disease, patient complained of dysphagia and odynophagia. Candidiasis is a frequent complication for HIV-positive individuals....
views: 259 comments: 0
00min 17s.
A 59 year-old female with ictericia due to hepatic cirrhosis.
views: 262 comments: 0
00min 17s.
Candidiasis. White plaques are present on the buccal mucosa and the undersurface of the tongue and represent thrush. When wiped off, the plaques leave red erosive areas.
views: 273 comments: 0
00min 25s.
The usual clinical presentation of Candida esophagitis is dysphagia and/or odynophagia in a patient with 1 or more predisposing factors for the condition. Symptoms are variable in severity, ranging...
views: 277 comments: 0
00min 35s.
00min 29s.
GRANULOMA - The vocal fold on the right side of the picture has a granuloma attached to the vocal process which is causing a small reactive lesion on the opposite vocal process. Laryngopharyngeal...
views: 285 comments: 0
00min 22s.
The left arathinoids shows a small yellowish nodule Lipomas in the major airways can cause respiratory distress related to bronchial obstruction. Patients may present with either endobronchial or...
views: 292 comments: 0